On Monday morning we celebrated Jack's 3rd birthday with a small morning tea party. I really wanted to make the party special and fun for Jack so I went with a "favourites" theme. All the food I made was Jack's favorite foods, or and adaptation, and we played his favourite games.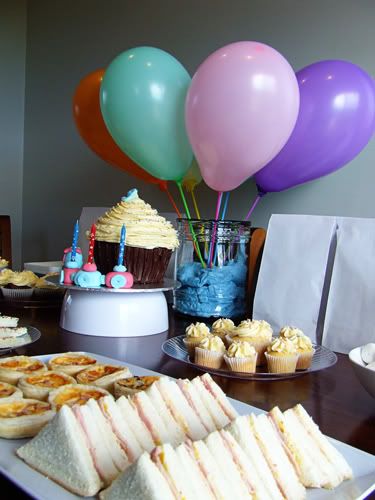 It was a great morning and I had so much fun planning everything and making his birthday cake, which he loved! I turned our dining table into the party table and displayed all the food and the cake in a buffet style. I was really happy with the way it all came together. The only thing I'd do differently is to make some tags for the food and the loot bags.
I had my first go at sculpting fondant. I was suprised at how easy it was, considering I didn't have all the right tools. I used a tutorial by
Cake Journal
for the train.
The birthday boy had a fabulous time and is still exhausted today. The best part of the day was watching him as everyone sang Happy Birthday to him, he was beaming from ear to ear, he just loved it.